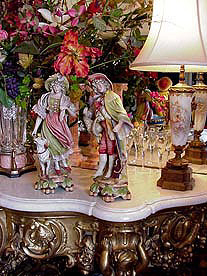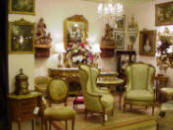 Welcome to our "Web Shop," the home of Fine European Antiques, Decorative Porcelain and Accessories, Fine Old China, and so much more!! We hope you'll take time to explore the navigation bar above and other links below. You'll find beautiful Fine China such as Schumann Bavaria Empress Dresden Flowers, Chateau, Forget-Me-Not, Chalet, Dresden Garland, Wild Rose Blush; others such as Crown Staffordshire, Franciscan California Desert Rose, Gorham, Haviland Limoges, Heinrich & Co., Lefton, Minton, Mitterteich, Old Nippon, Noritake Somerset, Pickard, Royal Albert, Royal Worcester, Saxony Porcelain, Schumann Bavaria, Schwarzenhammer, Shelley, Thomas Bavaria, Tirschenreuth, Wedgwood Gold Florentine and Blue Jasperware; German decorative porcelain from Dresden, Volkstedt, Rudolstadt, Von Schierholz, Sitzendorf, and others; English, French, and German teapots, tea sets, teacups, demitasse cups, chocolate sets, chocolate pots, coffee pots and coffee cups; decorative bowls, cups, vases, and plates from JKW Bavaria, Carlsbad Austria, Limoges France, Royal Doulton, Victoria Austria, RS Prussia, RS Steeple, OS Germany, ES Germany, CT Germany; Schumann Arzberg Bavaria; a pair of Friedman Silver Plate candelabra; a Reed and Barton five-light candelabra; various silver plate serving pieces; a 19th Century French Pastel, as well as many other beautiful accessories.
Be sure to also check our Collectibles link.
Also notice our new "Requests" link for viewers who have items for sale.
As you explore our website, you'll see that we have cross-referenced many of our items;
first, by name of manufacturer/decorator; second, by category.
Click here for Table of Fine Porcelain Marks and other identifying marks, signatures, labels, etc.
Click here for my extensive research on the Schumann Porcelain Factory.
Please don't hesitate to e-mail us for current prices and quantities or for more information about anything that interests you. We look forward to hearing from you. Thanks for looking!!!
Layaways always welcome
Consideration to Package Pricing when possible on large orders
All inquiries welcome